Introduction
The Series 6 is the current flagship model with over 10,000 units deployed worldwide and annual sales averaging in excess of 1500 units. A robust outdoor telephone that can withstand the harshest weather conditions. Tested and proven in very high lightening prone zones as well as high humidity areas. These phones are highly vandal resistant and ideal for deployment in public areas.
Key features include:
Rugged marine grade alloy case
Powder coated UV-rated finish
Weatherproof and dust-proof and insect proof
Vandal resistant
Armoured cord
Ruggedised metal alpha-numeric keypad on auto phones
Self closing door
Reflective phone symbol label
Lightning and surge protection
DTMF/Decadic dialling
Line powered
Options
Options for all Series 6 Telephones
Optional Door Lock
External ringer
Strobe or Flashing Light
Tamper Proof Screws
Universal Wall Mounting Kit
Pole and Pole Mounting Bracket
Models available include:
Series 6 Central Battery Hotline
Series 6 CB Programmable Auto Dialling (CBPAD)
Series 6 Automatic or Keypad Style
Series 6 Models
Series 6 Central Battery Hotline
These phones, which  are used extensively on Road, Rail and Mine sites work by simply looping the line. The phone system which the CB is connected to will direct the call to the required recipient.
Series 6 CB Programmable Auto Dialling (CBPAD)
The Series 6 CBPAD is programmed  to dial a predetermined number when "Off-hook". This number is held in a "Nonvolatile" memory. The number can be programmed in to each unit either onsite or remotely via a touch tone telephone. Changing of the pre-programmed number can be done in the same manner.
Applications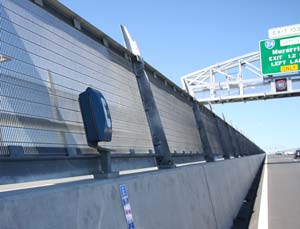 Roadside Help Telephones
KJ Precision Engineering  has designed and manufactured these phones for over 25 years.
They are deployed all over Australia on Freeways, Highways and bridges for the safety and security of Australia's drivers.
The Dritel Series 6, analogue Central Battery Hotline phone is the optimal choice for this application.
They are cost effective and highly vandal resistant. These phones have proven their durability with many still in operation after 25 years.
They come with Noise Cancelling Handsets meaning they are perfect for locations with high traffic noise.
Railway Signal post telephone (SPT) with Points Lock.
These phones are used throughout Australia and South East Asia on Railway lines.
In remote areas they are deployed for Railway workers and Signalling. They are also the preferred phones for Railway platforms.
These phones can come with locks for use with a single or universal key and adhere to the QR, Vic Rail and RailCorp NSW Specifications.
They can also be optioned with a remote testing feature to avoid costly servicing.
These phones are lightning and surge protected and feature advanced insect screens.
The Dritel SPT has been designed with the harsh Australian climate in mind, they can therefore withstand high fluctuations in temperature, humidity and high rain fall.
This means these phones last for years without servicing or replacing.
Parks and Wildlife
In remote areas around Australia, Parks and Wildlife are using Dritel phones for the safety of the general public, whether they are hiking, bike riding or camping.
The Series 6 CB phone is a good cost effective choice and have already saved lives around waterholes, on beaches and boat ramps.
Installation Manual
Download Series 6 installation manual.
The manual can be displayed/viewed or printed from your browser or saved to your computer.